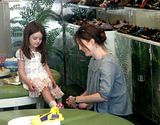 Oh & BTW, Julianne Moore and Tom Hanks are going back in time as the unlikely stars of a new Barry Levinson western.

The pair will star in new movie Boone'S Lick, Missouri, which is adapted from a book written by Brokeback Mountain screenwriter Larry McMurtry.

In the new period film, Moore will portray a pioneer woman who falls in love with her brother-in-law, played by Hanks, during a cross-country trip from Missouri to a fort in Wyoming to rejoin her husband. Shooting on Boone's Lick is scheduled to begin later this year.

source