Michael Stipe of R.E.M., left, performs with Eddie Vedder of Pearl Jam after Vedder introduced R.E.M. "R.E.M.'s music is truly all-encompassing," said Pearl Jam's Eddie Vedder, who inducted them. "They used every color on the pallette, they invented colors on their own and they put up this huge mural of music and sound and emotion."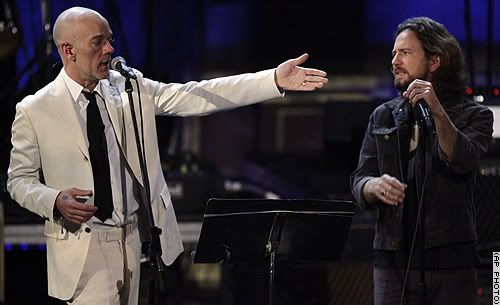 Stipe said his late grandmother once grabbed him by the arm and said what R.E.M. means to her is "remember every moment. And this is a moment I shall never forget."

Out of Athens, Ga., R.E.M. largely invented the college radio scene in the 1980s with songs like "Radio Free Europe," then became mainstream stars behind hits "Losing My Religion" and "Everybody Hurts." R.E.M performed again Monday with its original quartet, welcoming back drummer Bill Berry, who had left the band in 1997 after suffering an aneurysm onstage two years earlier. They tackled a couple of songs from R.E.M.'s early years: "Begin the Begin" and "Gardening at Night."
Source: CNN