In the new issue of Italian Vanity Fair, the Victoria's Secret model revealed that she wants a big family. When the magazine asked Bundchen whether she wants to have kids, she replied, "I'd be lying if I said no - my parents have been married for 35 years and have six children. Thing is, I'm just 26 years old, so I have plenty of time.''
What else did the catwalker say? Excerpts from the interview below:

On love:
"It's one of the most beautiful things in life, but you have to live it the right way," she told the mag. "You have to be able to give love before you can receive it.''

On staying in touch with ex Leonardo Di DiCaprio and his family:
"Certainly we still see each other - I am really fond of his family. When you are with a person for a long time it's natural that you get tied to their family, but they are separate from the relationship between him and me."

On her life in New York:
"I really love dancing, but I can assure you that when I am working I never go to parties or nightclubs."

On keeping it low-key:
"The days that I am busy I very rarely go out in the evening. I prefer to stay at home and cook for my friends."

On her hobbies:
"I also adore sports, it's a passion I have had ever since I was a little girl."

On being a woman of the people:
"Thinking about it, the only difference between me and other people is that I travel a lot more."

Bundchen brought the Patriots quarterback to Milan Fashion Week recently, and designer Stefano Gabbana told VF, "They looked really good together. He is gorgeous, and if you ask me they are very much in love."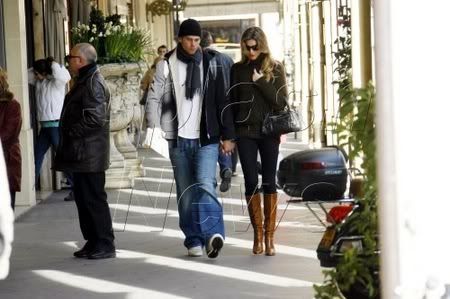 While these 2 are off practicing making babies in Italy.

The mommy (Bridget Moynahan) of his new baby

and Mary Louise Paker grabbed breakfast.

Source: PageSix, Bricks and Stones