Here is our lovely Ms. Biel in a satin Versace cocktail dress at a Mario Testino book party in Paris.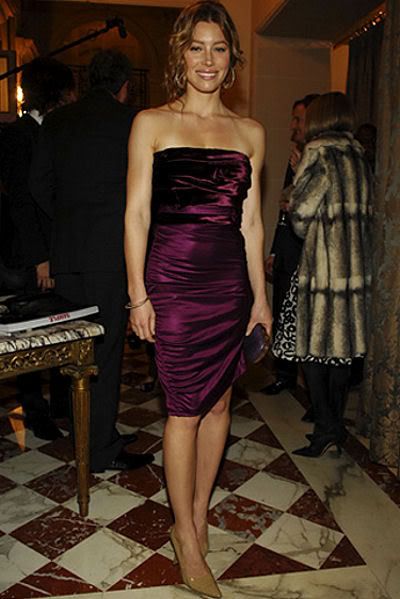 The next day Jessica heads to Stella McCartney,

Where, one minute she was posing and vamping for pictures in a sexy minidress. But three minutes into Stella McCartney's show at the Palais de Chaillot in Paris, Jessica was escorted from the designer's front row – something never done at catwalk shows, which don't last more than 15 to 20 minutes. A spokeswoman for McCartney said that Biel was jetlagged -- the 24-year-old actress arrived in Paris from Los Angeles yesterday morning. But backstage, rumors flew that Biel was actually taken ill, as she did not reappear after she left the show.

However, Page Six spies state THAT Jessica had to walk out of the Stella McCartney show because she was so hung over from the Testino party at the Crillon the night before.

Nice try publicists on the "JETLAG" theory. Too many people out and about that could give your client up! You wonder if she'll get invited back to Stella's show? Anyway, just want to give a shout out to Ms. Biel for today is her birthday! Happy Birthday and try not to have too much "fun" during Paris Fashion Week!
Source:
BricksandStones