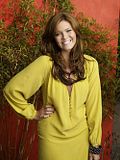 Behind The Scenes Of Mandy's Photo Shoot
Where did the shoot take place?


"The shoot took place in the Hollywood Hills at a private home.Since it was a weekend, the owners were also there."



What time did it start?


"The crew arrived at 7 a.m. and Mandy arrived at 9 a.m. It was a cool and cloudy day when we arrived, but it cleared up for the shoot."



How long did the shoot last?


About four and a half hours.



What was served for lunch?


"We were done with the photo shoot by lunchtime and we all had the most amazing fish and grilled vegetables. It was a great way to end the shoot."



What music played during the shoot?


"We listened to the duo Bird and Bee. We all became huge fans of one very inappropriate song on the record about becoming someone's boyfriend!"



Who came to the shoot with Moore?


"Mandy's agent accompanied her.



Here is the full
Parade
article.
All Photo Credit To Robert Ascroft.