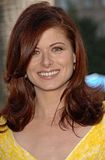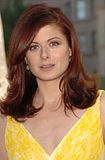 And if you were wondering why she had
her hand behind her back-it's because
she has a nasty black cast on her arm!


Debra Messing
will be starring in
The Starter Wife
as a sexy, savvy and wickedly funny woman whose quest is to redefine herself after years of marriage to a Hollywood studio head. With wit, sassy style and cameos of the rich and famous -- and wannabe rich and famous - The Starter Wife tackles the most delicious and dastardly details of a divorce and recovery, Hollywood style, while at the same time being relatable to everyday women.
Messing is best known for her role as interior decorator Grace Adler from Will & Grace for which she won the 2003 Emmy and recently earned a 2006 Emmy nomination. Her performance has garnered her four Golden Globe nominations, four Emmy nominations and two American Comedy Award nominations. She will soon be seen in Lucky You alongside Eric Bana, Drew Barrymore, Robert Duvall and Purple Violets directed by Edward Burns.
source
,
source
&
source